When it comes to a list of things that make a man's world go round, there is air, water, food, shelter and then there is football. This is one of the first games that every kid is introduced to before they move on to other things when they grow up. Essentially, every man is tied to this game by default. Since not everyone of has ends up playing for club or country, the rest of us turn into loyal fans for different teams. For those who are skilled enough to play for the big football clubs, it is usually the beginning of their dalliance with large sums of money. Here is a list of the richest footballers in the world who have managed to score big both on and off the pitch.
Cristiano 'CR7' Ronaldo
He is the world's best soccer player at the moment. It is only right that he tops the list. His new contract with real Madrid now stands at £86.5m. Everything seems to be going just right for this young man who is now at his prime. He recently won the 10th champions league title for his club. Off the pitch, Cristiano has endorsement deals from numerous companies that include Nike and Armani. He even has his own clothing line called 'CR7'. In addition to all these, he has an 8600 square feet mansion in Madrid and others in England. Let us not even start on the fleet of luxury automobiles that he has decorating his compound. He collects them like a would pick toys from a toy shop.
Lionel Messi
Coming in at second position is Cristiano's fiercest rival Messi. He is the perfect example of getting value for your money. He is one of the best moves Barcelona ever made. His prowess on the field is just on another level. This enabled him to bag the world footballer of the year back to back. His wealth is quite extensive. He gets £1.6m per year from his endorsement deal with addidas. He endorses Turkish Airlines in addition to a host of other deals from video games and Samsung. His salary as per the new contract signed with his club is at £15.7 million per year. He owns several properties which include his Catalan city mansion in Madrid and Rosario Mansion in Argentina. His range of cars include the likes of Audi Q7, Ferrari F430, just to mention but a few.
Samuel Eto'o
He is a Cameroonian striker and currently plays for Everton. During his short stint in Russia, he at one point became the highest earning footballer in the world. Anzhi Makhachkala used to pay him a whole £16.5m per year. That was back in 2011. He has a deal with PUMA worth €5m per annum. He also has an endorsement deal with Ford and Fashion label John Richmond. He has bought houses in Russia and back in his home country Cameroon. He owns cars such as Bugatti Veyron, Aston martin one-77 and Mayback Xenatec. He is undeniably the world's wealthiest African footballer.
Wayne Rooney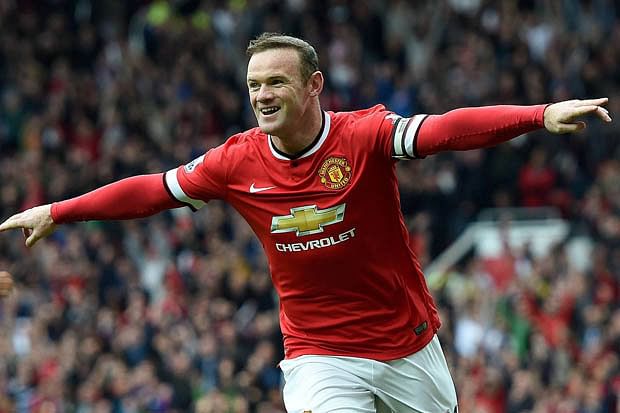 He is already being regarded by many as a great footballer. His place in the history of Manchester United and England is already secured. As per new contract agreements with his team, Rooney takes home £300,000 every single week. He has a £3.2 million a year contract with Nike. He also endorses Samsung and Harper Collins for a book deal. He has a big mansion in Cheshire where you will find either of these cars; Range rover Overfinch, Lamborgini Gallardo spyder and a Bentley continental GTC.
Kaka
As much as he may have gone off the radar for a while, kaka is still a force to reckon with. With his current move to MLS, he is expected to shine once more. He has a binding seven year modeling contract with Armani that is worth $5.5 million annually. He also endorses for adidas, EA sports and sony. He has properties in almost all the cities he has played in. they include; Spain, Madrid, New York and Manhattan.
Neymar Jr.
We should probably start with the fact that he just clocked 23. With the numerous successes that he carries with him, it is hard to imagine that this is just the beginning. At this rate, he will be number one on this list in a few years. His charm and charisma attract companies to him. He is said to be the most marketable athlete alive. In that area, he comes ahead of Cristiano and Messi. He is not selective on what to endorse. His endorsements range from Nike, Panasonic, Heliar Claro, Santander, Unilever, to red bull. He has a five-year contract with Barcelona which he is paid £7.2m annually. He has houses in Sao Paulo and owns an Audi R8 and a yacht.
Ronaldinho
Popularly known as Gaucho, Ronaldinho had jaw-dropping stunts on the field that left the crowd cheering their hearts out. He was and still is a trouble for many defenders. He always keeps a good image that attracts endorsements. The endorsements include companies such as Nike, pepsi, cocacola, and EA sports. He has played for Barcelona, Ac Milan, Atletico Miniero and is currently in Mexico playing Queretaro. His real estate properties can be found in Greece, Brazil, Florida, and Barcelona. While playing for Atletico, he used to take home £2.2 million. He is proud owner of a hammer 2, Mercedes Benz E-class, Bugatti Veyron, and Audi Q7.
Zlatan Ibrahimovic
In Swede, he commands lots of respect and admiration. It is not every day that you come across a football player who has a burger named after him. He currently plays for Paris saint-Germain and earns a whooping £12.4m every year. He has always attracted heavy transfer deals which total up to £139m thus earning him the title of the world's most expensive player. Ibrahimovic is also into real estate and has properties in New York, Milan, Stockholm, and Malmo. His endorsement with Nike earns him $4 million per year. His cars include the Ferari enzo, Volvo C30 TS, Porsche Carrera GT and a lot more.
Gianluigi Buffon
Finally, we have a goalkeeper in our midst. He plays for his national team Italy and club Juventus. He earns £3.7m every year. He has a sponsorship contract with PUMA that is worth £1.2m and he is also involved in several businesses. He owns shares in a manufacturing company that brings him a good amount of cash. He also boasts of several spacious properties in different cities and an array of cars.
Thiery Henry
Arsenal regard him as a legend and were glad when he made a come-back that was short lived. He is currently playing in MLS for the New York Red bulls. He earns £2.6m yearly and. His salary is boosted by endorsements from pepsi, gilette, and red bull. He is into business whereby he has invested a lot in real estate and the stock market.