The FIFA world cup has always been entertaining, thrilling and fun. Whether your team did not qualify, is out or is on its course for glory, you will enjoy the moments of sheer genius on the field. From goals to celebrations and even madcap moments, there is plenty of entertainment at the world cup.
Here are 6 memorable moments that that tournament has ever provided.
Maradona's Hand of God Goal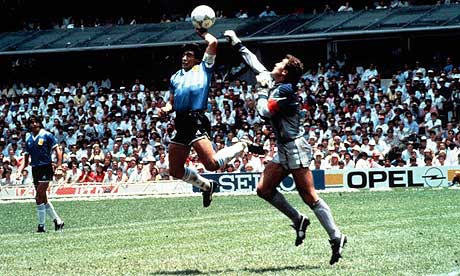 It came in an intense game, just when a poor interception floated the ball high in the air but just in a perfect position between the Argentinian, Maradona and England goalkeeper, Peter Shilton. Maradona go to the ball first but it was some distance over his head so he stroke it with his arm and into the net. The referee didn't see that cheat so it counted against the protests of the England team, which was eventually eliminated.
Maradona's best world cup goal
The Argentinian genius never stopped to wow the fans on the big stage. This time round, just after scoring the 'Hand of God' goal against England, he proceeded to score one of the biggest goals in the history of the game. He simply picked the ball in the middle of the field, dribbled masterfully past every player in his way and slotted past the keeper.
Gordon Banks Save Of The Century
Talk of the 'save of the century' from Gordon Brown to deny one of the tournament's most elite players, Pele. The Brazilian had pulled a downward header that appeared destined for the back of the net but the England keeper made that moment quite memorable when he produced a miraculous save.
Marco Tardelli's Goal Celebration
The Italian midfielder was so emotional that he made the fans emotional too. After scoring his goal to make it 2-0 against the Germans, Tardelli ran towards the bench and became overwhelmed. He began screaming and crying as he thanked the heavens. Until today, it stands as one of the most memorable goal celebrations.
Harald Schumacher Assault
While racing towards the goal with the ball at his feet, Patrick Battison, a French player, got a brutal challenge from Harald, the Germany goalkeeper. Although Battison was knocked unconscious, the referee neither awarded a foul nor booked the keeper. He instead gave a goal kick.
Senegal beats France
This match pitied world and European champions France, against the competition's newcomers Senegal. The odds were in France's favour but by the end of it all, to the disbelief of many, Senegal emerged victorious.
Even if you missed these moments, it is likely that you will remember more moments that you have watched and many more are still to come.