Manny Pacquiao has had a stellar career in boxing. He is notable for a series of successes in huge fights that have made him a household name in the boxing world. He is one of the top rated pound-for-pound boxers and he is highly credited along with Floyd Mayweather Jr. as some of the most talented and hugely admired boxers in the boxing fraternity.
Here is a look at the 11 times Manny Pacquiao showed us he is the best at what he does.
Miguel Cotto, Novemember 2009
The fight between Miguel Cotto and Manny Pacquiao showed the latter's complete performance against a tough elite fighter. Despite the success that Cotto had, he was beaten at his own game by a determine Pacquiao, who was on course for a seventh world title in seven different weight classes.
Oscar De La Hoya, December 2008
Before this fight, it was feared that Oscar De La Hoya would be too big a man for Manny Pacquiao. The fears and talks before the match were quashed when Manny needed only 8 rounds to dismantle his foe.
Chris Algieri, November 2014
This fight came after Pacquiao had suffered tow loses back-to-back and if anything, he needed to rejuvenate his boxing career. Manny dominated this fight by landing 229 punches including 187 power punches. He knocked down his opponent 6 times.
Antonio Magarito, November 2010
Pacquiao has had to fight many bigger men in his career and Antonio was one of them. Weighing 17 pounds more than his opponent, Antonio was expected to put up a fight and instead, the reverse happened. He was unable to match Pacquiao's speed and movement and he paid dearly for it.
Juan Manuel Marquez, March 2008
The two had previously met in 2004, where a controversial draw was decided on. This time, the war was brutal and intense but Pacquiao won due to a narrow split points decision.
Ricky Hatton, May 2009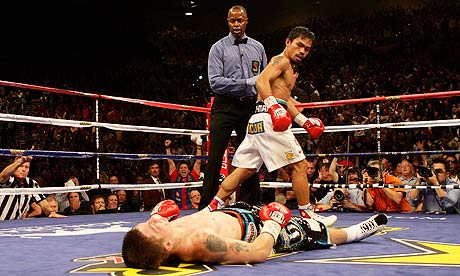 Pacquiao's speed and movement combination were too good for Ricky Hatton to handle. Hatton went down twice in the first round before being knocked out in the second round.
Marco Antonio Barrera, November 2003
Pacquiao was still trying to get into the limelight while Marco was well known at this stage. The fight took 11 rounds and Pacquiao emerged victorious hence gained more popularity as he had stopped one of the elite boxers at the time.
Erik Morales, January 2006
Pacquiao had lost to Morales the first time the two met, but this time, he settled the score by a TKO in the 10th round.
Shane Mosley, May 2011
Pacquiao once again relied on speed to win his fight against Shane Mosley, who was past his best. Pacquiao was the best in every round as he knocked down Mosley in the third.
Chatchai Sasakul, December 1998
This was Pacquiao's first title fight as a professional boxer as he displayed a mixture of speed, power and raw technique to knock out his opponent in the 8th round and claim the WBC flyweight title.
Lehlohonolo Ledwaba, June 2001
This fight came in to being just some time after Pacquiao had teamed up with trainer Freddie Roach. It was his first fight in the USA and he defeated the South African in the 6th round to win the IBF super bantamweight title.
Manny Pacquiao rose from poverty to become one of the greatest figures in boxing. He is not only a legend, but also an inspiration to many boxers and aspiring boxers throughout the world.